If you want to monetize your app, publishing it on Google Play is a crucial step. It facilitates easy installation for users on their Android phones. This article will guide you through the process of publishing your app on Google Play.
Need Assistance?
Consider availing AppsGeyser's professional service for Google Play upload to save time and ensure smooth publishing: Publish your App.
Step 1: Create Google Play Developer Account.
To get started, visit the Google Play Developer Console signup page and complete the registration process, including paying the $25 registration fee and verifying your identity. For more detailed instructions, refer to our guide: Create Google Play Developer account.
Step 2: Create Your App.
Click "Create app" in the Google Play Developer Console to begin submitting your app. Enter all the necessary app details and accept the required declarations. Once completed, click the "Create app" button to proceed.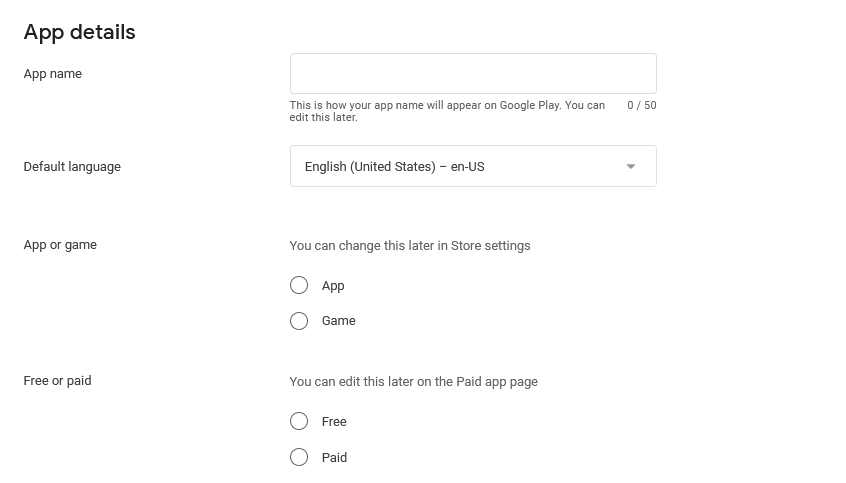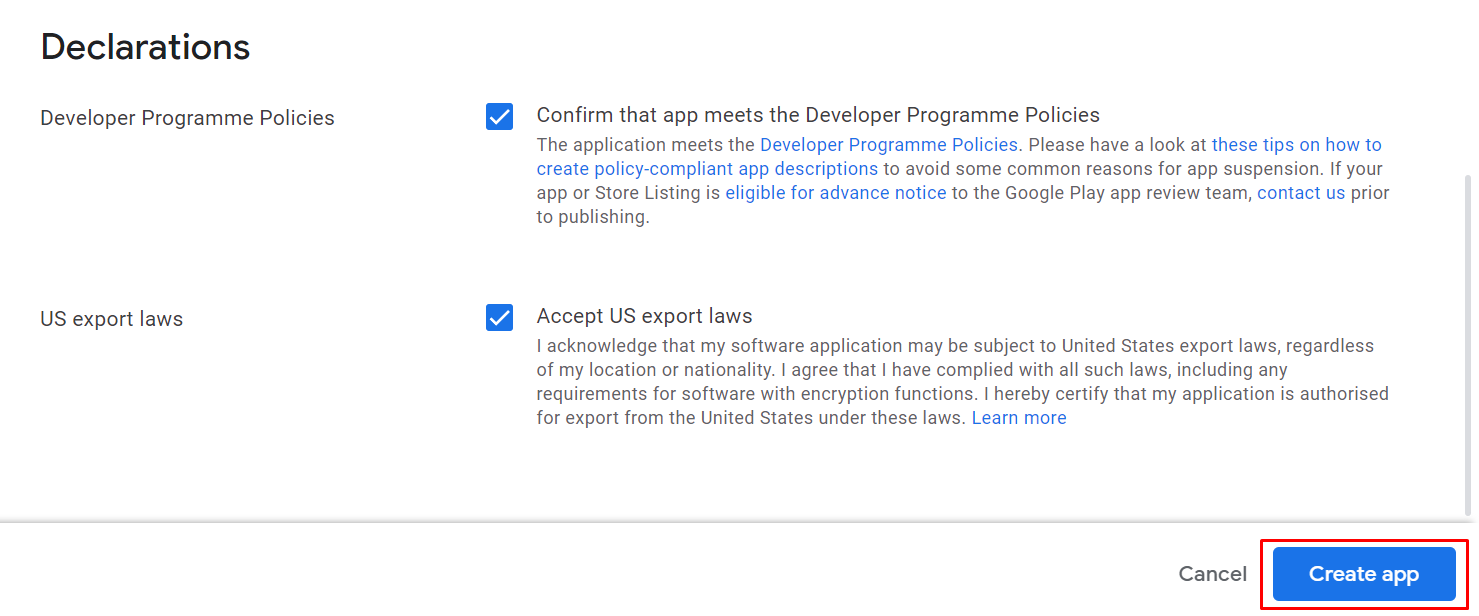 Step 3: Set up your app.
Skip testing and click "View tasks" in "Set up your app" section.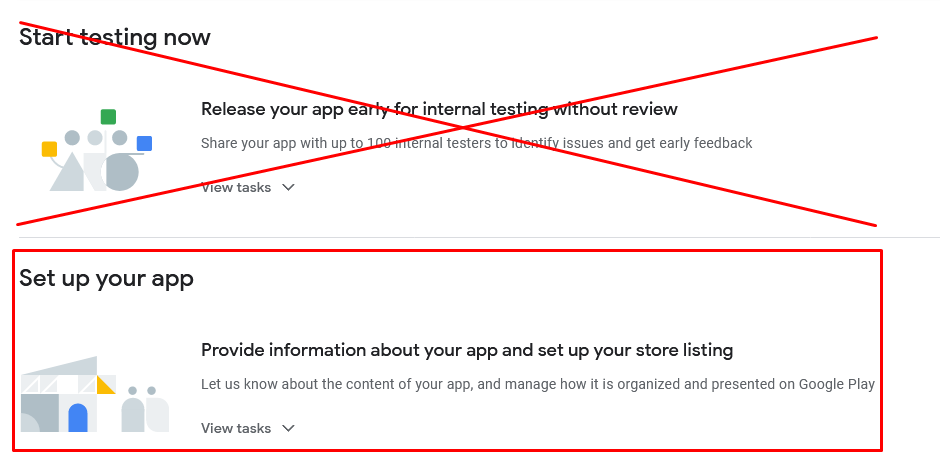 You'll need to complete the following tasks: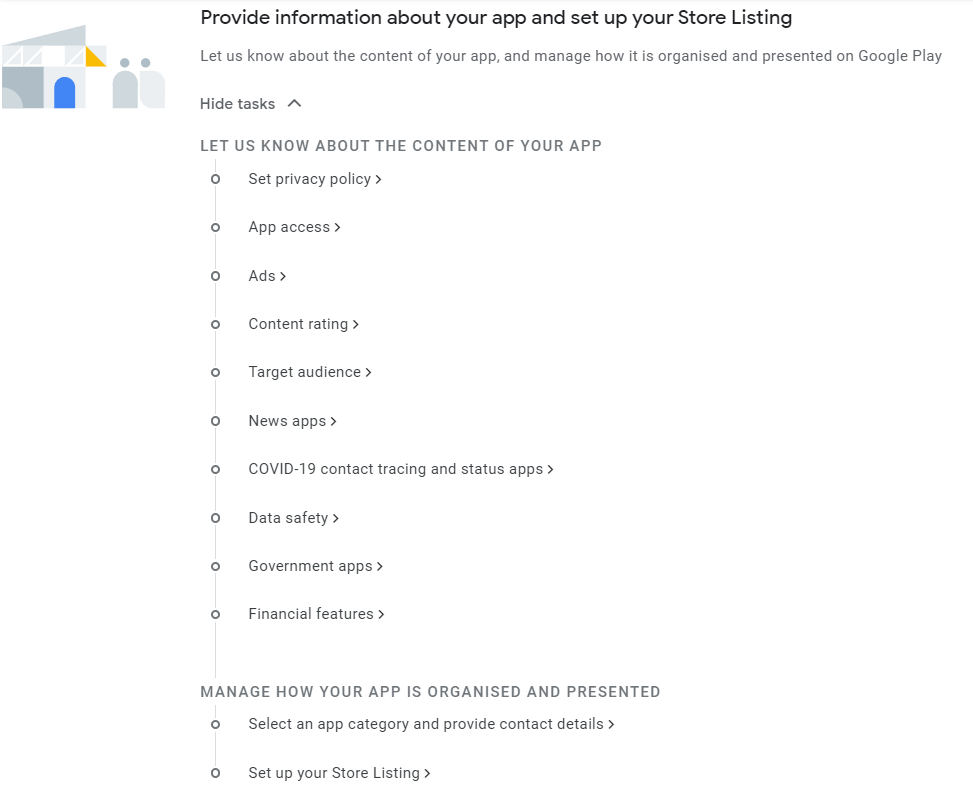 Please refer to our articles for detailed instructions on each of the tasks:
Complete Privacy Policy section
Complete Content rating section
Complete Target audience and content section

Complete COVID-19 contact tracing and status apps section

Complete Government apps section
Complete Financial features section
Step 4: Upload Your AAB.
Scroll down to the "Create and publish a release" section. Click "View tasks" and complete the "Select countries and regions" task by adding the desired countries or regions for your app's distribution.






Click "Create new release".



If it's your first app, you will be prompted to choose App signing preferences. Click on "Continue". Please note that we do not recommend making changes to the preferences in app signing.



Download AAB file of your app. You can find it on Self-publish page of AppsGeyser Dashboard.
Learn more: Download your AppsGeyser App.


Click "Choose signing key" and select "Use Google-generated key" option:




Click "Upload" button and upload newly obtained AAB file.



You will see that your file was uploaded:



Change Release notes if needed.



Click the "Save as draft", "Next", and "Save" buttons located in the bottom right corner of the page to confirm the upload of your app. Afterward, click "Go to Publishing overview" to proceed.




In the Publishing overview click "Send 14 changes for review" and then confirm this action.


Congratulations! Your app is now under review. Please note it may take several days until your app is available on Google Play.
If you have any further questions or need assistance, please don't hesitate to reach out to our support team.